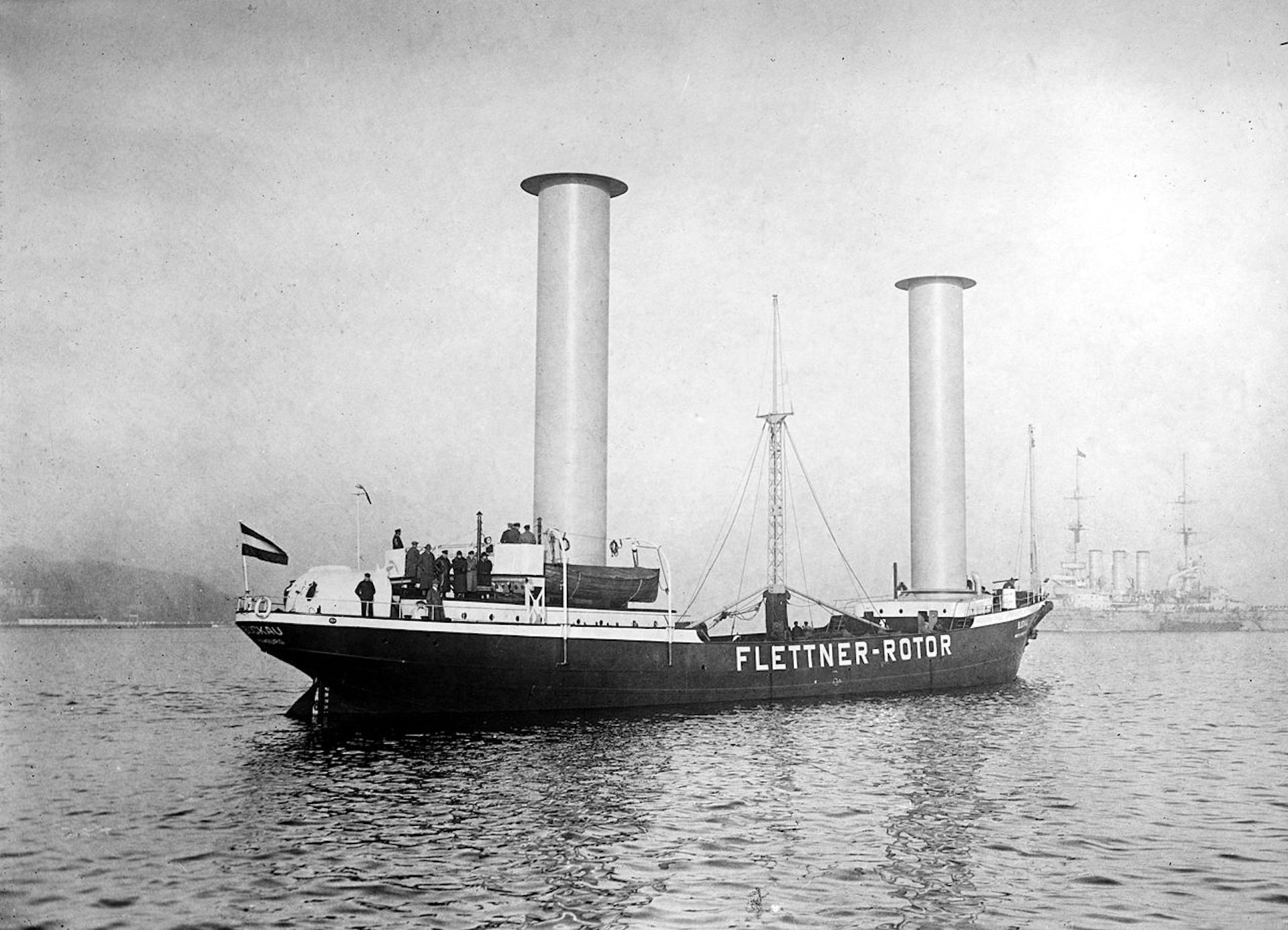 The cylindrical sails you see in the picture above go back 100 years and were invented by a German Engineered Anton Flettner are are based on the Magnus Effect.
The Magnus Effect is where air flow over a round object will have an uneven flow over the shape so that there is a faster flow on one side than the other and similar to the Bernoulli Effect that allows an airplane to fly, the Magnus Effect can produce an asymmetrical thrust.
Here is an animated Gif showing how it works:
For this effect to work on a ship, electricity is used to rotate these cylinders and as the wind blows past it, a unidirectional thrust is created that helps to propel the ship thereby reducing it's fuel consumption.
Here is the claim: "The 240 metre-long Maersk tanker will be retrofitted with two modernised versions of the Flettner rotor that are 30 metres tall and five metres in diameter. In favourable wind conditions, each sail can produce the equivalent of 3MW of power using only 50kW of electricity. Norsepower expect to reduce average fuel consumption on typical global shipping routes by 7% to 10%, equivalent to about 1,000 tonnes of fuel a year."
That's not a misprint – 3 MEGA WATTS of power is created using only 50 KILOWATTS – that is a COP of 60 times or 6,000% gain compared to what the operators of the ship have to input. Of course, none of this violates any laws of physics since it is an open system and the wind is free environmental input, which is simply being leveraged from very little input.
Congratulations to Norsepower for being open about what it is able to accomplish and to Maersk for allowing this to be implemented on a tanker.
Full story is here: http://theconversation.com/spinning-sail-technology-is-poised-to-bring-back-wind-powered-ships-74872